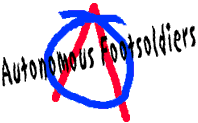 The Music of Others
The music of autonomy, and therefore of the rEvolution, can come from anywhere, without warning, at any time. That's the charm of our philosophy: We, and maybe you, are, to varying degrees, autonomous, isolated, and dextrous. It's all relative, of course. What we call isolated, the un-rEvolved might catch a glimpse of out of the corner of his or her eye, think s/he saw something intertwined. What we refer to as autonomous, the uninitiated might gaze upon as if through fogged ski goggles, and name it dependent. What we declare dextrous, the fool might forget to do his or her warm up stretches, and dismiss as inept. This is not our fault.
So, if you've done your warm up stretches, take off the goggles and face directly toward enlightenment.
Randy Day
Many vocalists sing the songs of others. Randy Day is no exception. But Randy Day is a vocalist that knows few boundaries. He does not limit himself to the work of say, Gershwin or Cole Porter. Nor does he stay within the narrow confines of a single genre. No, Randy's reach reaches farther than the reaches of such categories with such small reaches. He, in one moment, plucks from obscurity a one hit wonder, making us wonder why just the one hit came from whoever was that one hit wonder. He, in the next, takes on a classic ditty of patriotism, or a confrontational rap, or a latin dance number, or a children's song we all know and love. He, in short, touches our hearts and sings to our souls.